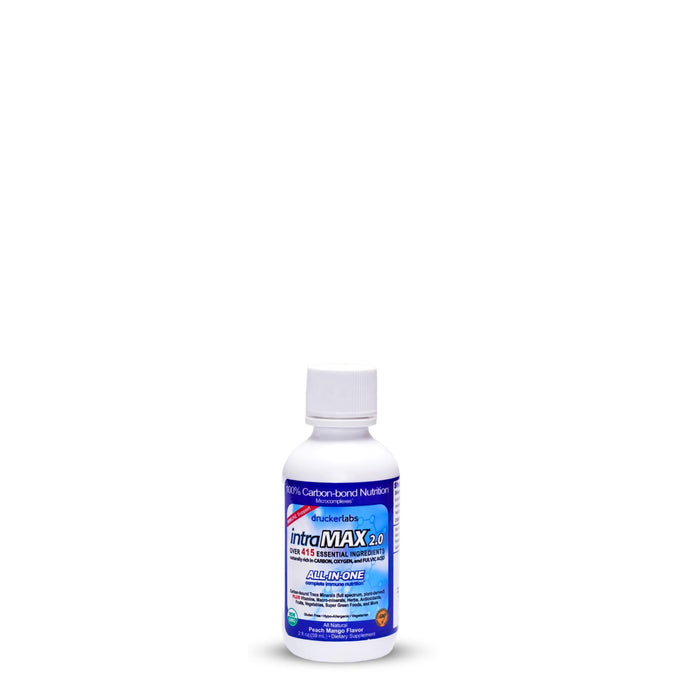 }
Travel Size intraMAX® Natural Peach Mango Flavor
Travel light and stay healthy with intraMAX – your ideal travel companion.
Introducing the travel-sized version of our flagship product, intraMAX, now conveniently available in a 2 fluid ounce bottle!
Crafted with precision using the groundbreaking intraCELL Technology, this innovative cold-fill manufacturing process ensures that the 415+ ingredients in intraMAX retain their peak nutritional value while also being enriched organically with naturally sourced fulvic acid.
In just a one-ounce daily serving, intraMAX delivers a comprehensive spectrum of vitamins, trace and macro minerals, prebiotics, antioxidants, digestive enzymes, fruits, vegetables, essential fatty acids, bioflavonoids, amino acids, and more! It's your all-in-one wellness solution on the go. 
2 Fl. Oz. 

For ages 4 and up.

Available in All-Natural Peach Mango Flavor.  
*These statements have not been evaluated by the Food and Drug Administration. These products are not intended to diagnose, treat, cure, or prevent any disease.
For best results, take on an empty stomach and do not take within 2 hours of pharmaceuticals, over-the-counter drugs, or other dietary supplements. Follow dosage with plenty of non-chlorinated, filtered water or as directed by your Health Care Practitioner.

Maintenance Protocol: Take 1 fl. oz. per day, six days per week.

Performance Protocol: Take 1 fl. oz. of intraMAX / intraKID in the morning and 1 fl. oz. of intraMIN approximately 6-8 hours later.

Children's Protocol for intraMAX (ages 4 to 12): Take ½ fl. oz. per day, six days per week.

Chemically sensitive Patient Protocol (intraMIN Unflavored recommended): Take 1 teaspoon three times per day, six days per week. Best if taken 30 minutes before or after food.

* If health challenge exists, start with a smaller dose after food and build up slowly to full dosage, or as directed by your Health Care Practitioner
Original price
$8.50
-
Original price
$8.50